Equipments – M2M Machine to Machine networks

Smart networks are developing: smart grid, smart meters, the Internet of objects. The equipment must communicate with each other, and the personnel responsible for maintenance and supervision must have access to the equipment. Remote management allows considerable productivity gains. It must be secured by strong access control and authentication of personnel and machines.
XC technology provides authentication (XCA) and encryption (XCC) in a n-to-n mesh network environment.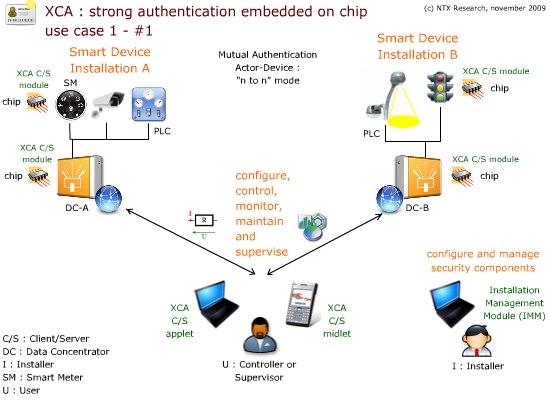 "Scientists at the Fraunhofer Institute are convinced that a better use of information and communication technologies would save energy by requiring consumers to be informed in real time about their consumption of energy, Energy and be able to act accordingly on their home appliances, but also remotely, such a control of its consumption will be done by new smart electricity meters called "Smart Meter". [Philippe Rault, ADIT]
To prevent fraud and maliciousness, the XCA authentication solution allows mutual authentication of the electricity meter and its legitimate user. This authentication is at the same time safe, simple and inexpensive.
Vehicle Opening Control / Car Access

"The key to centralized openness has long been widely democratized in the automotive sector, a luxury that no driver can do without, but the system included in the keys has many design flaws. Of car theft consists in recording the signal transmitted by the original key and transferring it in a dummy key.Designers have developed algorithms protecting the information contained in the signal, They are not powerful enough, so unscrupulous computer scientists succeed in cracking the codes within a minimum of 1 or 2 years Alerted by the phenomenon, car manufacturers try to recreate new algorithms that are safer but still inspired This is where the problem resides, because the algorithms developed are always symmetric, otherwise Said, the computer code protecting the key and the car are identical. Thus, once the algorithm has been pirated, the dummy key gives access to all the cars coming from the production line. "[Philippe Rault, ADIT]
The di-symmetric XC technology, based on coding tables, avoids any systemic risk by distributing as many pseudo-random algorithms as vehicles. Cryptanalysis is not only difficult, but it can at best only involve one vehicle at a time. All the hacking work has to be done again for another vehicle. One-time passwords (OTPs) circulate between the vehicle and its key, with no possibility of re-play. As for consumption, it is very low and compatible with microcontrollers and low cost batteries. The XCA solution can also enhance the safety of the encoded anti-start.
Some thoughts on the subject / Car Access
"Most processors are not in computers or laptops, but in embedded systems, about 70 are in a mid-range car." The novelty in this technological field is that these embedded systems will be connected to one another They will not only collect and process data locally, but also learn how to manage information, communicate with other embedded systems or with a central computer, and become part of cyberspace and form the new computational physical systems (CPS This is the fusion between the real physical world and the virtual world. "
"The current trend is to bring more and more networking to consumer electronics, from the Playstation through the Smartphones to the iPad. Of a whole new range of industrial applications with high economic potential, such as stand-alone logistics systems, new traffic control systems, or intelligent power grids.The proportion of software focused on innovation and value creation Added increases, along with safety standards and requirements. " [Bastien Gailleton, ADIT]
For truly "smart" networks that enable consumers to control their consumption
"Faced with rising natural resource prices (gas tariffs have increased by 20% since 2010, electricity prices could explode by + 18% by 2015, while water tariffs have risen by + 29% In 10 years) and in order to preserve the
Why taking avantage of our cryptographic expertise :
NTX Research can take care efficiently and in a cost effective way to key cybersecurity issues you're facing :
Authentication
M2M Device and Gateway authentications
authentication of M2M service layer capabilities or M2M applications
Mutual authentication
and, device integrity validation.Data integrity, date transfer confidentiality, privacyTrusted and Secure Environment
Security credential and software upgrade…
NTX Research ensures Security…
Identification
Authentication Integrity
Confidentiality
Authorization (rights and privileges)
NTX Research's Securitycares about…
M2M control of the network membershipM2M identificationM2M mutual authenticationMachine to User mutual authenticationData communication integrityData communication confidentialitySession keys encryption and key updateManagement and enforcement of rights and privileges